There's so much to see and do in beautiful, historic Bedford County. 
Our waitstaff is very friendly and can usually give helpful pointers on nearby tourist attractions. You can also send inquiries to Jean Bonnet Innkeeper Brandon Callihan.  Just use the easy form on our Contact page.
The Jean Bonnet is a proud member of the Bedford County Visitor's Bureau and the Bedford Chamber of Commerce. Both are great resources and include comprehensive tourism directories on their websites. Please click below for links.
For Folks who Like History
Old Bedford Village
Village of historic Bedford County buildings relocated into park-like setting. Featuring authentic colonial crafts, re-enactments, educational programs, live theatre  and much more. Click for web site:
Old Bedford Village
Fort Bedford Museum
Explore history of Bedford County from Indian arrrowheads to covered wagons and soldier's uniforms. Fort Bedford's eclectic collections offer a look at life in old Bedford. Click for web site:
Fort Bedford Museum
Bedford County Historical Society
Geneology records, old maps, photos, cemetery records with grave marker inscriptions, Civil War letters and newspapers, and much more in our Pioneer Library. Click for web site:
Bedford County Historical Society
National Museum of the American Coverlet
Museum displays beautiful collection of woven Early American coverlets, presents information about their weavers, and demonstrates methods of their production. Click for web site:
National Museum of the American Coverlet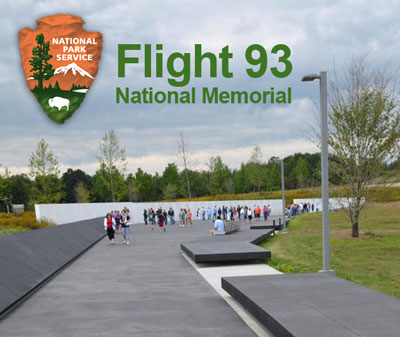 Flight 93 Memorial
On September 11, 2001, the United States came under attack when four commercial airliners were hijacked. 3,000 people tragically lost their lives. The 40 passengers and crew aboard one of the planes, Flight 93, thwarted the attack on the U.S. Capitol. Visit the Flight 93 crash site where the National Park Service operates a Memorial. Off Route 30 near Shanksville, PA. Click for web site:
Flight 93 National Memorial
Johnstown Flood Museum
The Great Johnstown Flood killed 2,209 people and destroyed the city of Johnstown. This 1889 flood was caused by failure of a dam at the South Fork Fishing and Hunting Club. Visit the Johnstown Flood Museum as well as the National Park site 14 miles up river near remains of old South Fork dam. Click for web site:
Johnstown Flood Museum
Entertainment for Everyone

Pinhead Amusements
Unique family-friendly arcade attraction featuring popular pinball machines created over the past 60 years. Play all for one flat price. Click for Facebook page:
Pinhead Amusements
Pitt Theatre
Pennsylvania's oldest continuously operating movie theatre is a main street gem in Bedford. Showing first run movies. Click for web site and showtimes:
Pitt Theatre
Historic Downtown Bedford
Organization promotes revitalization of Historic Downtown Bedford. Helpful directories of local retail businesses, as well as community and service groups. Click for web site:
Historic Downtown Bedford
Bedford Speedway
PA's oldest dirt track (circa 1936) offers seasonal sprint & stock-car racing on a 5/8-mile oval. Cl
ick for web site:
Bedford Speedway
Rocky Gap Casino
Casino and golf resort overlooking Lake Habeeb and Rocky Gap State Park. 8.1 miles from Cumberland, MD. Visit Cumberland's Historic District and Chesapeake and Ohio Canal. Click for web site:

Rocky Gap Casino
Altoona Curve Baseball
Minor League Baseball based in Altoona, PA. Farm team of the Pittsburgh Pirates offering full schedule of games. Great stadium. Take me out to the ball game! Click for web site:
Altoona Curve Baseball
Outdoor Recreation

Shawnee State Park
Beautiful PA State Park centered around pristine 451-acre lake. Swimming, boating, fishing, hiking and biking trails, hunting, winter sports and much more. Click for web site:
Shawnee State park
Heritage Walking Trail
The Bedford Heritage Trail is a gentle scenic walking / biking trail, the first phase of a larger trail that will ultimately link the Bedford Springs Resort, Fort Bedford Park, and Old Bedford Village. Click for more info: Bedford Heritage Trail
Skiing, Snowboarding & More
Winter fun abounds in Bedford County. Blue Knob Mountain offers the highest elevations with the most challenging ski slopes in Pennsylvania. You'll find motorized lifts and the longest and sweetest rides for skiers and snowboarders. Click for web site:
Blue Knob Resort